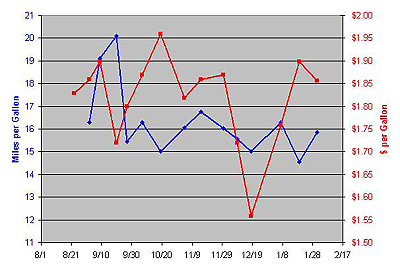 Yes, the mileage is terrible. I'd love to trade you for a new Toyota Prius or some such, but the cost of gas just doesn't justify buying a new car to my fiscally driven mind.
The numbers above come to about $20 a week on an average load of 183 miles a week. And that includes vacation driving over the holidays. Assuming a ridiculously low incremental cost of $10,000 for a new car, and assuming that new car is twice as efficient as this one, that comes to 1000 weeks or about 19 years before the new car pays for itself.
I'll drive this car until the wheels fall off. Or I win the lottery (greater than $1 million or it doesn't count.)
[Update 9/1/05] Please see the updated numbers and analysis - based on the irrational rise in gas prices - on
this post
.