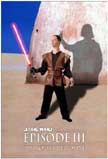 Sure, we'll all go see the next (and final) Star Wars movie, regardless of how badly it turns out. It's required, especially of those of us old enough (barely) to remember how groundbreaking the first Star Wars movie was. Even the overwhelming disapointment of the last two Star Wars movies can't keep us from plunking down our money to see how it all comes together in the final episode.
However, I am willing to bet that George Lucas's Episode III (Revenge of the Sith or some such) won't hold a candle to this milk-from-your-nose-funny spoof trailer for Sequential Pictures' Episode III (A Lost Hope).
I keep a copy on my computer now, and use it as a respite from the interminable meeting blahs.