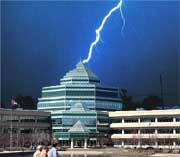 According to a
variety
of
reports
, all stemming from an Ottawa Citizen article, God told Nortel COO Gary Daichendt to inform the board of Nortel that he (God) wanted Daichendt to be CEO.
However, when Daichendt brought this message up with the board, God refused to provide a reference.
"Geez, it was just a suggestion!" God reportedly said. "I never thought he'd actually use my name! Man, what a name-dropper!"
Daichendt claims that God has recently been avoiding his (Daichendt's) messages and now answers most of his prayers with a generic female voice message stating, "I'm sorry. The Heavenly Father is not currently available. To leave a message, please contact Benedict at Vatican 555-1212."