It's taken about 2 months to edit and post (apparently), but Lightwave has finally posted the last of the three video interviews that I did at NXTComm.
Something's just not right in the way I look in this one. Maybe it's the lighting. Maybe it's the camera angle. Maybe it's the lack of sleep after 2 days in Las Vegas. Maybe I'm just really that creepy looking in real life.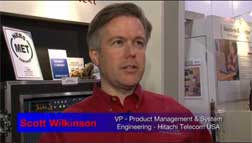 I'm going with camera angle.