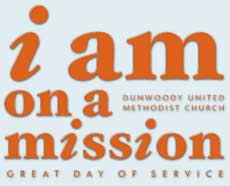 Are you planning to be in the Atlanta area this Saturday? Are you looking for something to do?
I'm coordinating one of the many projects for DUMC's Great Day of Service. My group will be paining the interior of a house in downtown Atlanta. The owner is a very nice woman who is, unfortunately, no longer able to keep up with the maintenance on the house. The inside walls haven't been painted in about 40 years and she would really, really like to have them all done.
Due to an unexpected conflict, my group of 10-12 people has been reduced to about 7, and I could certainly use the help.
To add a it more pressure, here's a photo of the homeowner's granddaughter, who insisted on being in every picture that I took. How can you say no to that face?