I use
Vonage
for my home phone service. For those unfamiliar, it is a Voice over IP service that you can use over your cable modem (or other high speed internet) connection. It's increadibly inexpensive and usually very high quality. In fact, we had trouble with the phone lines at our house when it rained, and that has all been eliminated by going to Vonage instead.
The biggest defect in Vonage's service is that they don't officially tell you that you can use it on every phone in your house (the way that they tell you to use Vonage on multiple phones is complicated and cumbersome). However, it can very easily and simply be done, and there's no need to buy anything more than about $10 worth of stuff that you may already have laying around the house.
You will need a screwdriver, a telephone cord (the one that goes to the wall, not the one that goes to the handset), and a simple telephone splitter (below) that you can
buy for about five dollars at Radio Shack
.
Make sure that it is a splitter (one phone line split into two) and not a "second phone line adapter". They look similar, but they do different things.
First: Hook Up Vonage Just Like They Tell You To
You'll want to be sure that the service works, so hook it up according to the directions that you receive when you sign up for the service. I won't repeat them here, as they are spelled out well in the Vonage instructions. After following these instructions, you'll have one phone hooked up to Vonage.
If you are waiting for your local phone carrier to move your number over to Vonage, you'll have to stick with that one phone hooked up until everything gets moved over. That may take a week or more. Don't do anything else unless you want your phone number to show up as "busy" during that entire time.
Vonage working on one phone now? Got the right phone number associated with it? Good. Now...
Second: Disconnect Your Inside Wires from the Outside Phone Network
You're not using the connection anymore, right? Plus, if you leave the wires connected, bad things can happen (more on that later). This is the most involved step in the whole process, so once you get through it, you're golden.
Find your "Network Interface Device" or "NID" on the outside of your residence. It should look something like this.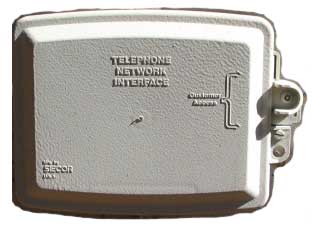 Open it up (you may need a screwdriver). It's ok. Legally, you own all of the wires inside your house including the ends that stick out into this box. Don't break the box, though, as you'll want it to be working if you ever go back to traditional telephone service.
Once open, disconnect all of the wires that go into your home. You'll probably have to unscrew something and unwrap the wires. It'll look something like this: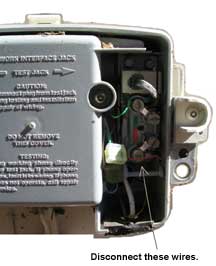 Now, close it back up and screw it shut. Go back into your residence and pick up any phone (except the Vonage one). There should not be any dial tone. This is good - it means that you've disconnected the right wires.
Three: Hook Up the Splitter
You already have a phone hooked up to the adapter that Vonage sent. Now, you want to hook up all of the rest of the phones. So, unplug the phone line from the back of the adapter.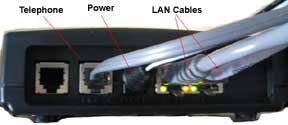 Plug the phone cable that you just pulled out of the adapter into the telephone splitter. Now, plug another telephone wire into the other side of the splitter and back into the Vonage adapter. You should have a splitter with one wire going to the Vonage adapter and one wire going to your telephone.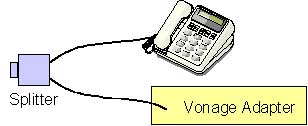 You can pick up the phone receiver now and check for dialtone. If there's no dialtone, you've either got a bad splitter or something's not hooked up right. Plug the phone back the way it was and try again.
Four: Plug the Splitter into a Wall Jack
Notice that the splitter is made to plug into a wall jack. (It's normally expecting the phone signal to come from the wall and be split out to two phones. ) Plug the splitter into any available wall jack.
You should now get dial tone on every phone in your residence.
What's happening is that phone service is coming into your Vonage adapter, going to the splitter and into the wall, and using your house wiring to provide service throughout the residence. The splitter is just making it so that you can use the original phone that you had hooked up.
Lessons Learned:
Some interesting lessons that we've learned in having our house wired this way.
Never run the cable (for the cable modem) through a power strip or UPS. It's supposed to provide surge suppression. What it did for us was drop calls unexpectedly.
Sometimes, when you call voicemail from a phone, you have to dial your next call from a different phone. I don't know why. You can get around this by going to another phone and pressing any key, then hanging up.
Be sure that you've disconnected the outside wiring. If you don't, the first time your phone rings it will send a signal back into the phone company's network that will make it impossible to hang up the call.
If you're using DSL (which comes in on the phone line), this may not work. However, you can probably use the other line (most homes are wired for two lines) by using a second-line adapter instead of a splitter.
Finally: Be Sure to Get Your First Month for Free
Vonage has a deal where you can get a free month of service if you are recommended by a current customer (the referrer gets 2 months free service). I highly recommend that you find a friend to get this offer from, but if you can't I'd certainly be willing to give you a reference.
I hope this has been helpful.
[Update March 23, 2005] If you are interested in using Vonage service (and I do like the service in general), I highly recommend that you read the "Vonage Saga" section of the index to the right. Go in with your eyes open.

[Update September 22, 2005] Whereas Vonage used to claim that they didn't support the technique listed in this post, they now have a help page dedicated to it. I'm sure that has absolutley nothing to do with the fact that this post comes up first in all of the search engines and also links to some people who have been mildly critical of Vonage. Nope, that can't be it.